We're Luxurious & Worth Every Penny (Just Like You)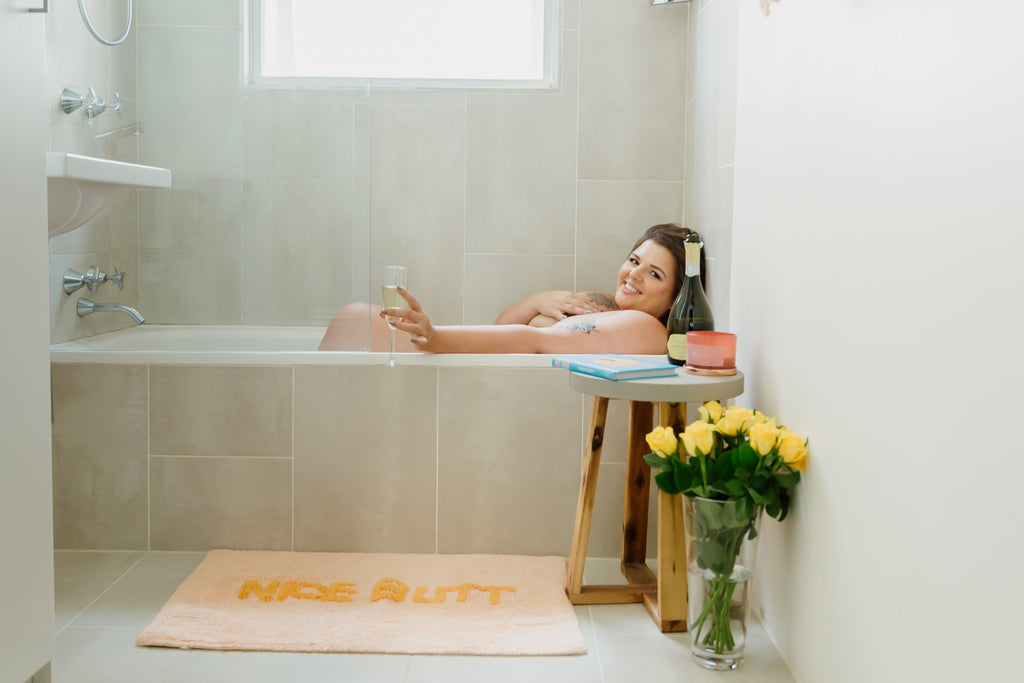 It's Called Quality, Darling
Psst! Over here…we have a secret to tell you. Some people think we're too much. Can you believe it? They look at other bath mats or towels and get the wrong idea – you know the kind; that's bland and vague and doesn't tell you how fabulous you are?? Well, we're here to say that we'll never stop being fabulous. But, we will share a few reasons we're a cut above the rest.
Baby, I'm worth it
We see you honey – hitting add to cart then second guessing yourself, should I really spend this much on a bath mat?? God yes. Because our bath mats are not just fabric on the ground; they're an investment in you.
First and foremost, we made our wares to make you feel like a million bucks. Their positive vibes are a reassuring pat on the shoulder and a cosy hug when you need it most. 
These babies are hand-tufted by our artisans in India. We use soy-based dyes to protect our precious planet and 100% cotton to keep things plush. All of this means a quality bath mat with vibrant colours, that lasts longer than the standard 2-years and is plenty soft underfoot.
Our collection of body positive towels are made by the same high-quality hands in the same family-run factory that we've grown to love. With a soft, velour finish on the front and absorbent terry towelling in back – they feel like luxury from a 5-star hotel.
Made to make you feel good
There's so much to love about you. You're smart and kind and funny and hot as hell, plus you're a fan of us (an excellent personality trait to have). By now, you know that we were made with body positivity in mind – to sprinkle self-love from every corner. But, there are more ways we were made to make you feel good.
How about less mess and more fun? Our bath mats and towels are EXTRA big and SUPER absorbent. Whether it's me-time in the shower, the kids making a mess or you and your lover getting sudsy; we'll mop up any leftovers. When you've had enough for the week, throw us in the machine – no complicated care instructions here.
Did we mention we're versatile? When you're out and about at the beach or the pool, our towels will carry you and your friends on soft terry wings. Use us for a picnic, try it for Twister or take us to the bathroom for that wrapped-up-tight bath sheet vibe.
Wrap me up in the good stuff
Just as we're a friend to you, we're a friend to the planet. We've scoured the packaging world to find the eco-friendliest options for delivery.
Meet mailer bag 1 – a plastic is not fantastic alternative, made from 100% recycled plastic pollution that was headed for our oceans. When you're finished, you can recycle her again in soft plastics recycling.
Get up close with mailer bag 2 – the cheeky compostable who, unlike you, will break down mentally and physically in 90-120 days. You can compost at home or send to a commercial facility. Just remember to strip her labels away first.
Both our bags feature a resealable strip, which means you can rip open that package like a kid on Christmas and still seal it back up if you need for a gift.
Last, but never least, that sweet little thank you card is printed on 100% recycled paper.
Tell me more, tell me more
Another burning question on your lips? Let us know via
the contact form
. We'll be sure to get onto it
tout suite!